Similar HD Sites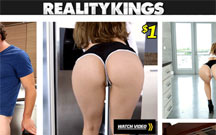 Reality Kings
>>
9.3
Evil Angel
>>
9.5
Reality Junkies brings you some of the craziest reality porn from the good land of Los Angeles. The collection is crafted from multiple porn series that all revolve around a fantasy base that mixes outlandish scenarios with ultimate fucking and hookups only pornstars can deliver.
If Reality Junkies is your first tour-stop in the realm of pornstar-reality-porn, welcome to a daydream in the making! The porn series covered here range from 18+ hardcore, to mature milfs, lesbian sex, big cock fuckers and large breasts too. I mean you really can't have one without the other in this day and age of fantasy porn videos. Further, there is high production throughout, so the porno-people are filmed with care and there are full sets with costumes, multiple closeup takes and scene stealing finales.
Sticking to the fun nature of pornstar sex, the scenes go from wild and crazy to absurd and back again with intense fucking along the way of course. There is playful acting and obvious sexual puns and innuendos throughout, as we all know the couples will always end up banging. You can tell the porn stars are having fun with it all and showing off their horny talents through it all.
Some of my favorite scenes are the office/coworker sessions where the stars can really dress up and play into the horny scenarios, like secretaries seducing and dominating their bosses or fucking a colleague over lunch break. Also, always good are the scenes where a petite pornstar is paired up with hung guy where she just gets torn up with big dick – in her pussy and up her ass, followed by a mean jizz facial!
Saying the pros know what they're doing is an understatement. These pornstars will always take cum to the face, beg for it and taste it when they can. Each scene is a thrill ride dependent on just how far and deep your favorite pornstar is willing to take the scene. Also in the mix are messy creampies, titty fucking, interracial throwdowns, deepthroat gagging – oh, and Asians too! And they dabble in some more fetish based scenarios like cuckold and older couples seeking young women. It's a porn-star variety hour where only the best are featured!
Similar to other sites in this network, videos are available in a fantastic streaming media player with instant timeline scrub-action. This is one tough player with on-the-fly bandwidth settings, popup screenshot image previews and awesome quality even at full-screen. Downloads come in HD 540p, 720p and 1080p, plus multiple low end h.264 and wmv offerings including mobile versions.
Photo sets come with each scene and look great as well showing the reality-porn in perfect captures. There is an easy slideshow viewer, but no zip options for quick saving. Overall RealityJunkies.com knocks it out of the park – let's just hope they add more series in the future to further expand the collection. Still,you gain access to multiple bonus sites in the Mile High Media network, so real reality pornstar lovers will be happy here from the start!